R3V3NGE: first look at the new Web3 zombie slasher
The living dead first appeared on the screens in White Zombie by Victor Halperin in 1932. Since then, zombies have emerged in countless movies, including Dawn of the Dead (1978), 28 Days Later (2002), The Walking Dead TV series (2010-2022), and World War Z (2013).
It's no wonder that these monsters were later widely adopted by the video game industry which resulted in numberless releases. As such, Steam can offer a total of 280 zombie related titles to the gamers, including Resident Evil, Left 4 Dead, The Last of Us, Call of Duty, and many more. And again, it's no wonder that Web3 games started to explore this popular storyline. Some time ago, we played another kill-to-earn sensation – Undead Blocks, and now it's time for us to try out its main competitor – R3V3NGE.
How to start
PolyLand, the studio behind the game, has recently added access to the beta version of R3V3NGE on Elixir. Therefore, you just have to navigate to this page, add the game to your library, download, and install it on your PC.

You also have to keep in mind the system requirements, as you will need a Windows or macOS computer with a minimum of 10 GB of space, 16 GB of RAM, Intel i5 or AMD Ryzen 5, and NVIDIA GeForce GTX 970 or AMD RX 480.
Gameplay
After the final release, R3V3NGE will offer four different game modes, including the 6-vs-6 deathmatch with a reward pool for players, battle royale with 100 participants, the competitive mode where you can train a while with the same level players, and, finally, the Zombies mode.
The beta version allows players to test only the Zombies mode. For that reason, after you launch the game you won't have many options to choose on the screen – just a few buttons with half of them inactive at the moment.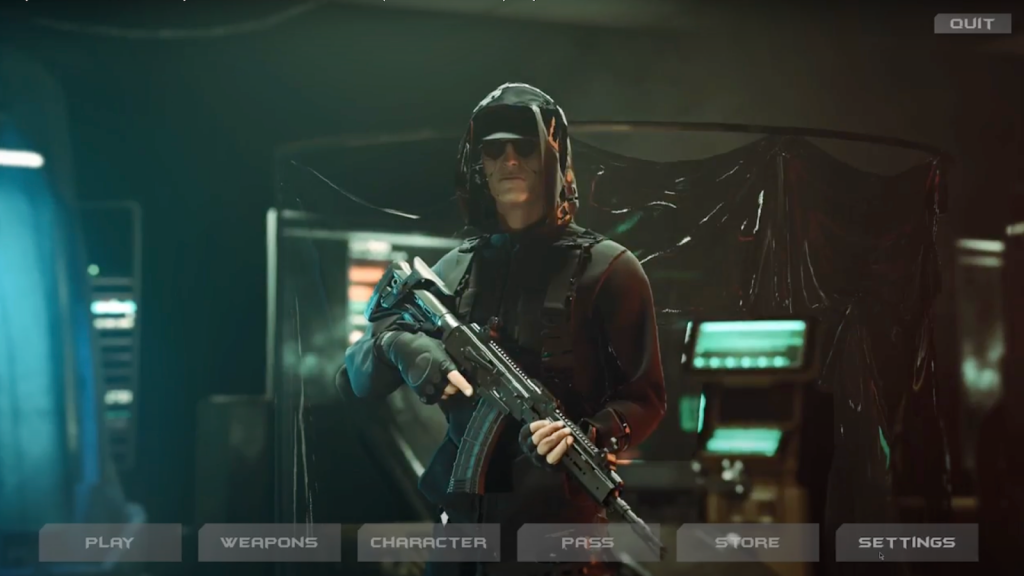 Basically, players can check the settings or adjust them, visit the game NFT store on OpenSea, or start the game by pressing the Play button.
Press the Play button, and you will show up probably somewhere in space, inside some futuristic ships, surrounded by hordes of zombies, with the only goal to survive as many enemy waves as possible. And that's not as easy as it sounds. There are a lot of enemies wandering around, and they quickly respawn after you kill them. As usual, the new wave is harder than the previous one.
The next challenge is your gear. You start the game with a pistol and few grenades. That's obviously not enough so you will need something more advanced to cope with the rising number of zombies. And that is why you will need the $ZION coins earned by eliminating your enemies.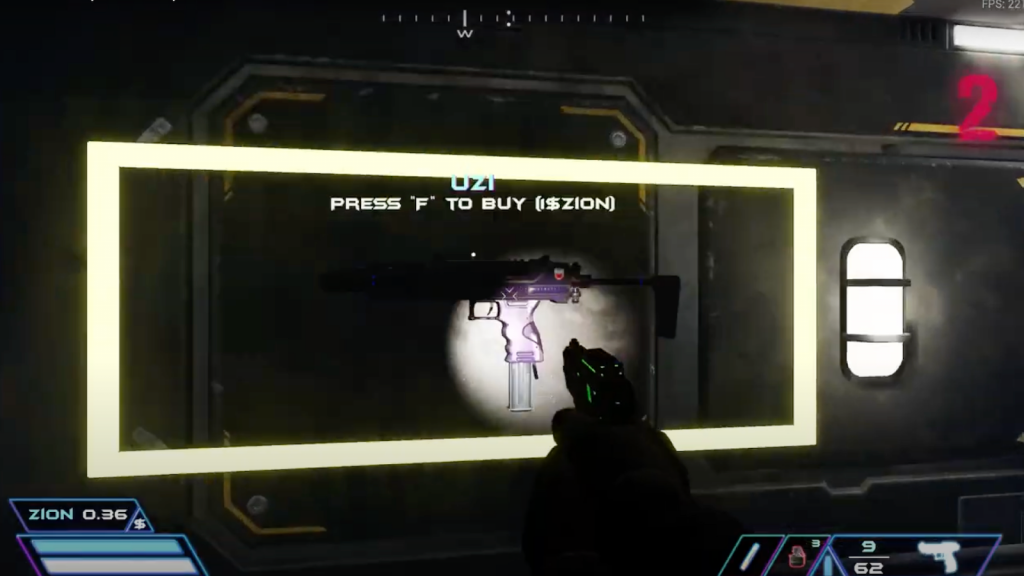 Keep in mind that your reward depends on your shooting accuracy. You receive 0.05 $ZION for headshots, 0.02 $ZION for each enemy killed by explosives, and only 0.01 $ZION for random shots. Given that a nice gun costs 1 $ZION, you will need to slash a lot of zombies to get it.
Besides, you always need to think about ammo. If you run out of bullets, you will stay with your knife and most probably lose in a matter of seconds. So, don't forget to pick up clips after killing zombies!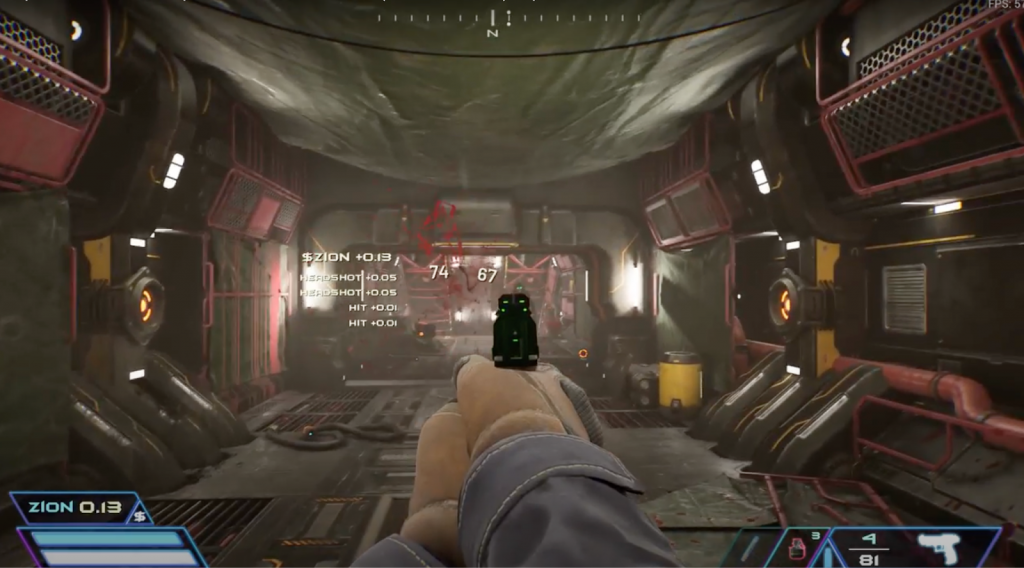 Unfortunately, the number of features available in this beta version is very limited so we are looking forward to the final release of the game. And, by the way, we've somehow withstood 13 zombie waves! What about your score? Share your achievements in the comment section!
How to earn rewards
As mentioned above, players can earn the $ZION coins by killing zombies, but they can't withdraw their rewards or spend them for anything but weapons in the game now. But, according to the project's pitchbook, after the final release, $ZION will be used as the currency for transactions, rewards and reward pools, DAO, staking, and upgrades. This token is running on the Polygon blockchain and will be integrated into the game in Q3 2023. Players will be able to bet in reward pools and win prizes in the $ZION tokens, alone or together with their teammates. $ZION is also used as a common token in the broader Polyland ecosystem.
Now players can buy loot boxes with different rarity levels containing game gear and different powers. But users can't open the loot boxes at the moment. The game has also partnered with Crypto.com to mint special shotguns priced at $99. Now some owners are reselling them for up to $1,500. However, these NFTs do not have any utilities in the game now.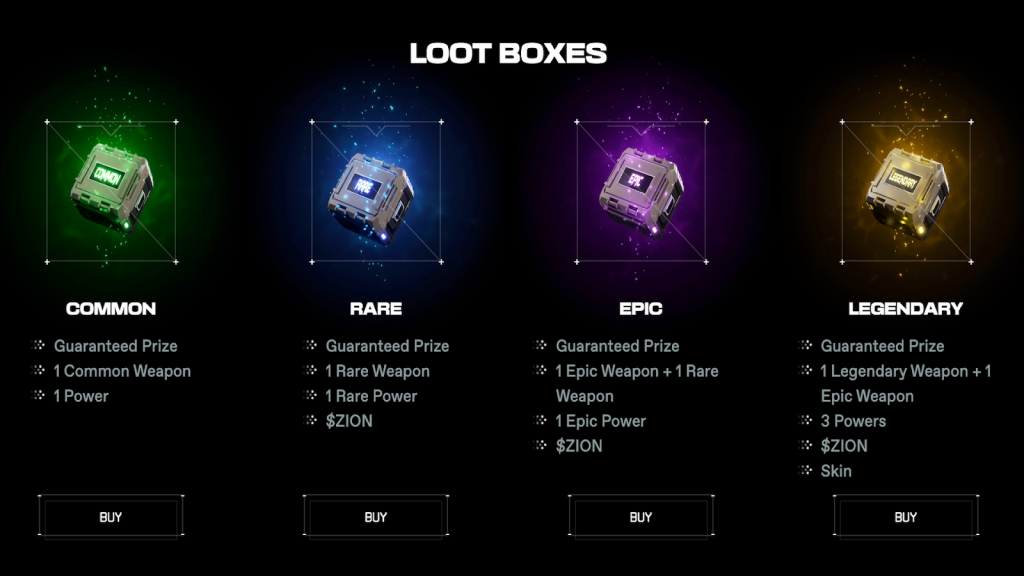 Thoughts and conclusions
Since we have mentioned Undead Blocks in the very beginning, we probably have to compare these two titles. Undead Block definitely has much more to offer gamers at the moment. This includes several game modes and some real opportunities to earn rewards. But, despite these advantages, we would definitely opt for R3V3NGE because of the top-level graphics, excellent sound work, advanced settings, and some minor things, like a big map and detailed zombie models.
We also have to keep in mind that R3V3NGE is in its early stage, with just one mode and one map available for players. But, with no doubts, this project has great chances to become an epic title after Polyland adds more features here. So, we definitely will keep watching this project closely.
Stay tuned for the updates and events by the Lifty team:
▪️Website: lifty.io
▪️Twitter: twitter.com/lifty_io
▪️Discord discord.gg/lifty-io
▪️Telegram: t.me/lifty_io
▪️TG ANN: t.me/lifty_ann
▪️Gitbook: docs.liquidifty.io
▪️Medium: lifty.medium.com
▪️Instagram: instagram.com/lifty_io/
Stay tuned
Subscribe to the newsletter to receive the latest news and updates.
By clicking the Subscribe button you agree to our Privacy Policy terms