Bear Market: How to Survive?
Usually, a bear market causes doubts even among full-fledged investors and traders, not to mention beginners. Hopefully, our tips may assist you in staying optimistic, preserving, and even increasing your assets. Crypto winters have many negative risks. How to be in such a market, so as not to go into the red? We've got some tips that might help you.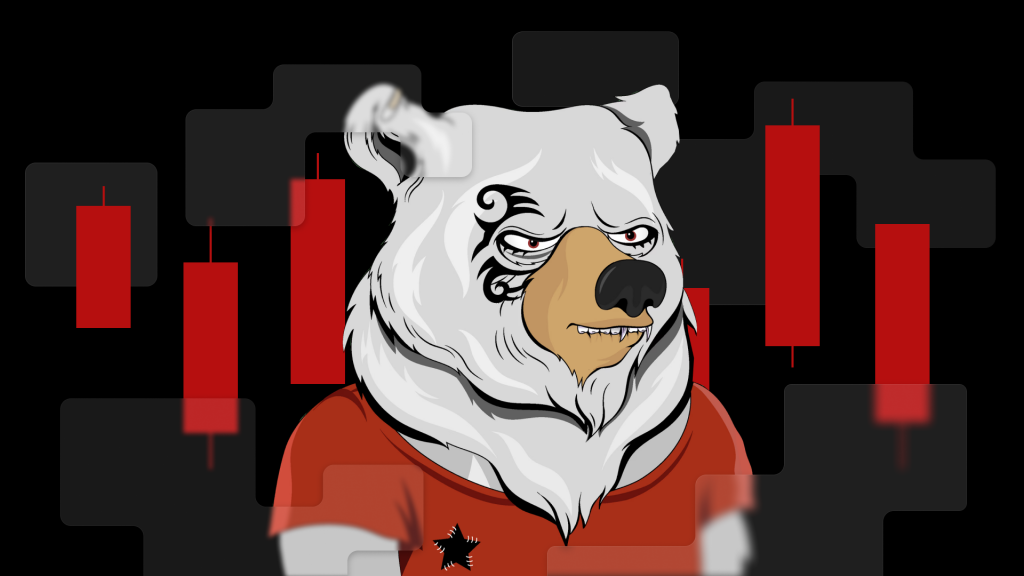 Advice 1. Diversify Your Crypto Portfolio
Diversification of your portfolio is always a good idea.
There are currencies and chains that are constantly developing on the one hand, and high-risk ones that can give a lot of profit or roll into 0, taking your entire budget with them on the other.
So there is a choice either to buy some really prospective cryptocurrency like Etherium or search for some coins that can make 100-10000% on hype-events.
By the way, we believe that the growth of Ethereum is inevitable, as it is based on everything that is necessary for progress. It will always be chosen due to its flexibility, security and decentralization. Ethereum has network security, user trust, a huge budget invested in development and stable improvements.
Yes, you may know that there are networks that are cheaper or faster than Ethereum, but if you take into account the totality, Ethereum has no analogues.
Buying reliable stablecoins is also a good idea. Even though stablecoins do not usually give significant profit, there is something in us that feels fulfilled when we know we have money kept somewhere.
Advice 2. Buy the dip
Buying the dip means purchasing tokens when they fall. The idea is that the falling price will recover sooner or later, opening up new profit perspectives.

As much as buying the dip is expected in a bear market, try not to buy too early. It is better to buy when most people have sold their holdings in fear. One of the ways to handle this might be to buy in small bits, as in DCA, and also employ price action and technical indicators to get the best entries.
It is important to note that not all currencies are worth buying on a dip, because for many of them, this dip could be the end as was in the case with well-known Luna. If you wanna invest, better do it with so called "blue chips". They are ones with a good and strong reputation, with high liquidity, and significant market capitalization, like Bitcoin, Ethereum, Binance Coin, Ripple and Cardano.
Advice 3. Average Portfolio Value in Dollars (DCA)
Instead of investing your money all at once, you can invest in small incremental amounts over some time. This way you can get pleasure from the advantages of buying on a market fall, similarly, avoid investing all of your savings throughout market highs.
Advice 4. Stake your Coins
Staking is a great way to generate passive income in hard times as in bear markets. Staking is the process of locking your coins on a particular platform to gain interest. Most platforms provide two options: flexible staking (withdraw at any time) or fixed staking (where you commit your assets for a set period, like one month or more).
You can stake tokens on centralized platforms such as Binance or Crypto.com. For example, there are many decentralized exchanges (DEXs) such as Uniswap, where investors can earn a share of the trading fees.
Advice 5. Listen and analyze the opinion of experts
The bestselling writer "Rich Dad Poor Dad" and entrepreneur Robert Kiyosaki considers the fall of Bitcoin as "The Great News". Already in May, he stated that the coin exchange price could fall to $ 17,000. Currently, the lowest rate of bitcoin was a little more than $ 18,000, as we see he had right.
The Managing Director and Market Strategist of the American investment company, Stifel Barry Bannister believes that the rate of the most popular cryptocurrency Bitcoin can be lowered to $ 15,000 per coin.
"Bitcoin is sensitive to GDP. Bitcoin falls when the PMI manufacturing index falls, "he says. When we look at the graphic of the index, we can see that his words also have the part of the truth. Bitcoin is in some way sensitive to the PMI index.
Advice 6. Do your own research
The bear market is the perfect time to delve into the world of various crypto projects, such as NFT collections or P2E games.
If you are ready to start your journey in P2E games, now is really the time to start playing Era7, because at this stage the game has enough high ROI. You can learn more on our website.
We also have an AI-driven NFT Quiz. To get advice on which NFTs to buy, you just need to answer three simple questions. These questions help us determine your budget and preferences. You can check all the details on our website: https://quiz.liquidifty.io/
Advice 7. Explore the NFT world
The world of NFTs has only recently begun its journey but has already reached great popularity. There are lots of possibilities in different shapes. Let's take a closer look!
Create your NFT
If you are a beginner, then you probably think that creating an NFT is long, complicated, and expensive, but this is not at all the case. It is not difficult to create an NFT token, and we have a special guide for you. You can check it out here:https://blog.liquidifty.io/step-by-step-gub hun ide-to-opening-nft-store-for-your-project/
Come up with some interesting themes, create your own style and the uniqueness of your works and you can easily release your collection.
Rent out your NFTs
If you want to earn passive income on NFTs, then you can rent out your NFTs. This is especially relevant for those NFTs that are now in great demand.
Some card games allow players to rent NFT cards. This increases their chances to win. Smart contracts regulate all terms of the transaction between two users. Therefore, you can easily set your price and the duration of the rental agreement.
If you are not sure that renting of NFTs is very relevant and in demand right now, then just look at the list of cases where this feature can be used:
Game assets. This is what others call "game content" and "game art". Game assets include various game icons, characters, textures, game cards, and in general all the parts of the game that were created by illustrators, artists and designers.
Event tickets. NFT tickets are digital assets stored on a blockchain, so the risk of your ticket getting lost, stolen or damaged is relatively low. Plus, NFT tickets can become valuable collectibles, acting as lasting memorabilia.
Virtual land. Virtual lands are sectors of the land on the platforms of virtual crypto-worlds. They are bought as NFTs. You also receive ownership of this land, which is recorded in the blockchain. Meta-land can also be transferred or rented out.
Subscriptions. Some platforms and services are not available to everyone and require subscriptions to use. If we are talking about the crypto world, then subscriptions in the form of NFTs. But let's say you're not sure if you need this subscription and want to check it out, then you can rent the NFT rather than buy it.
Earn NFT Royalties
The technology behind NFTs allows you to set terms and conditions that will earn you royalties every time your NFT is resold on the secondary market. So, you can earn income even after selling your token. This way, you will be able to earn income from one artwork every time it is sold.
At this stage, NFT technologies have developed so far that some marketplaces can now remove the mandatory royalty for each NFT sale. Therefore, sometimes royalties may come like a donation, or not come at all.
Make your NFT earnings liquid
Thanks to the collaboration between NFT and DeFi, it is now possible to provide liquidity and receive NFT in exchange to establish your position in a specific liquidity pool.
Example, NFTx is a platform that issues NFT-backed storage tokens. In NFTx, ypu can put your NFTs into storage and in return issue a fungible token (vToken). The token can be sold to another cryptocurrency at the minimum price of the NFT collection in order to access liquidity. When you want to receive the NFT, you will return the token and redeem the NFT from the collection back.
Bear Markets: final thoughts
Bear markets carry a lot of risks, but they also provide good opportunities for buying before the bull market. However, in order to be a winner in this game, you need to be patient and plan strategically.
In this article, we have shared the main ways to get through this cold crypto winter in the warmth!
And probably everyone is interested in why the market turns red and the wallets become empty. In the next article, we have prepared for you detailed info about the main reasons of this cold crypto winter.
We hope you like it and stay tuned for the updates and more events by the Liquidifty team:
▪️Website: liquidifty.io
▪️Telegram: t.me/liquidifty
▪️TG ANN: t.me/liquidifty_ann
▪️Twitter: twitter.com/liquidifty
▪️Gitbook: docs.liquidifty.io
▪️Medium: liquidifty.medium.com
▪️Instagram: instagram.com/liquidifty.io
▪️Discord discord.com/invite/liquidifty
▪️Reddit: reddit.com/r/Liquidifty_io/
Stay tuned
Subscribe to the newsletter to receive the latest news and updates.
By clicking the Subscribe button you agree to our Privacy Policy terms