NFT trends in 2022: moving from art to gaming
Today, everyone is familiar with the term NFT. Not only is it a buzzword in modern life, but it's a great tool for just about anyone who wants to enter the meta-universe and generate income. Whether you use NFT or not, some upcoming trends of 2022 could change the way we use the Internet, products, buy and sell art, and even create and listen to music.
The NFT now is about games, art, and media. There are no restrictions in this kind of metaworld. This is an entirely new ecosystem in which everyone can find their own cozy place.
NFT art is becoming more elite
This is probably the most popular vision of the NFT at this moment. And it's cool! Artists have found a place where the value of their work will be quite high. The most famous examples of NFT in art are the collections of Bored Ape Yacht Club and CryptoPunks, which even Snoop Dogg is delighted with.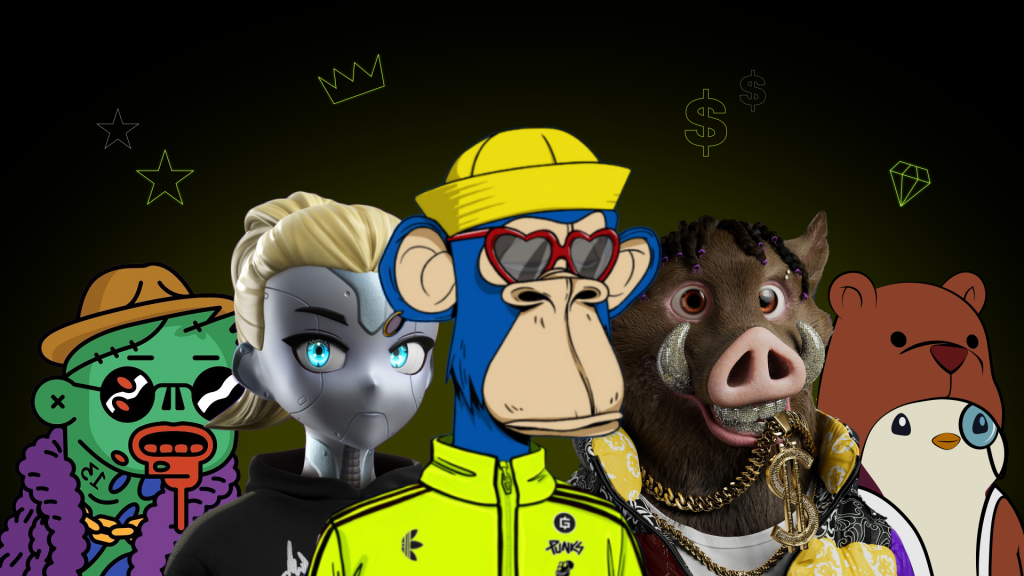 Musicians in the metaworld are also doing well. DJs, composers, and singers are successfully joining the NFT atmosphere and launching albums. For example: Mick Jenkins, Latasha, Imogen Heap and others.
But not only individuals want to make their investment in the NFT, but also companies. The list of companies that own the NFT also includes such well-known and beloved brands as: Puma, Pepsi, Nike, NBA Top Shot, McDonald's, Louis Vuitton, Dolce & Gabbana, Coca-Cola, Gucci, Adidas, Pantone, and even the luxury automobile company Lamborghini.
And finally, NFT games! In 2021 NFT sales volume totaled $25BN of which nearly 15% was spent on NFT in-game assets. It means that games are not in the first place now, but they are developing and have big potential. And where there is potential, there are possibilities.
NFT Games
Such games use a combination of usual game design and NFT game mechanisms. In one way tokens can be used in technological software, in another way you can collect NFTs in the game. For example, you find a chest in which NFT is hidden. Now it already is yours.
A huge advantage of rewards in NFT is that they don't just exist in a certain game. This means that you can easily withdraw the NFT you win to your wallet and sell it to any market participant and in any NFT marketplace.
Even though games are just starting to develop, there is plenty to choose from. Axie Infinity (AXS), Illuvium (ILV) and My Neighbor Alice (ALICE) are absolutely honestly named as best NFT games. They have a "play and earn" (P2E) model. This means you play, do some tasks and earn crypto or NFTs for those actions. There are now nearly 400 active blockchain games, so you can pick the best option for you.
Metaverse exposure
Developments in Metaverse, the digital realm of 3D augmented reality, have been gaining momentum since Facebook rebranded it as Meta in October. NFTs play a key role in Metaverse, ensuring the uniqueness of virtual assets such as player avatars.
Currently, a huge 21-level skyscraper is being built in the Bloktopia Metaconset to pay tribute to the maximum number of bitcoins (BTCs) that can ever be created — 21 million. Well-known consumer brands such as Adidas and Nike are also part of the Metaverse, partnering with contributors to create NFT artwork for their namesake brands. Above all, the developers of the Sandbox virtual metaverse want to protect the field from the threat of monopoly by big tech.
NFT ownership is growing and rapidly changing the way we think about digital art and blockchains. The future of NFT is colorful as the technology continues to evolve from basic projects to something more meaningful. As you read the conclusion of this article, new NFT projects are emerging with new applications.
The one consistent trend of NFTs over the past year is their steady growth and ever-increasing popularity.
Stay tuned
Subscribe to the newsletter to receive the latest news and updates.
By clicking the Subscribe button you agree to our Privacy Policy terms