Top ten Web3 games played in 2022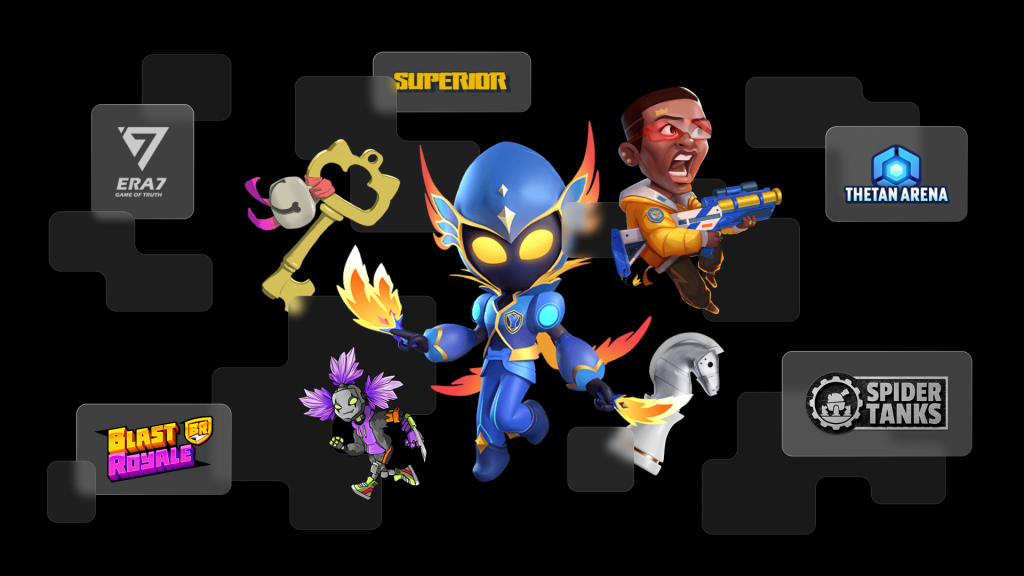 2022 has nearly gone, bringing a lot of blockchain games of all kinds for us. This year, we have seen a number of titles with compelling gameplay, rather than simple trading or farming opportunities, that can engage the most demanding gamer. These games include blockbuster titles with cinematic graphics, such as Superior, or titles with addictive PVP battles and exciting mini-games, like Drunk Robots or Spider Tanks.
Instead of trying to select the best Web3 games from the endless list of available options, we've decided to pick up ten favorites from 2022. These games may be different in terms of lore or gameplay, but all of them share Web3 functions and mechanics, including NFTs and opportunities to make a profit. Our list is not final at all, and if you wish to dig deeper into Web3 gaming and stay up to date with the recent releases, we sincerely recommend you visit our game explorer and follow us on social media.
Presented in a random order, here are Liquidifty's picks for the top 10 blockchain games of 2022.
EV.IO
EV.IO is a vibrant first-person Quake-like shooter for your browser that doesn't require any software to install. Moreover, you don't need an NFT to join the game.
EV.IO includes four different modes: deathmatch, team deathmatch, sniper shotgun, and survival. Players can join a battle on a default map or create their own one with the in-build editor. EV.IO includes a variety of weapons, items, and extra actions, including teleportations, triple jumps, grenades, etc.
However, if you want to grab some rewards, you will have to buy an NFT. Players can earn the in-game currency, the E tokens, for their scores and rating. After that, they can convert the reward into SOL. The NFTs also can be used to customize the design of the inventory, but they don't have any impact on the stats.
Superior
Superior is an exciting co-op shooter for you and your friends where you have to hunt the villain superheroes and steal their abilities to return the city to normal life. But you are always outgunned and outnumbered by the villains.
The game has a pretty simple game loop that includes shooting enemies and leveling up your character. At the same time, Superior includes a complex skill tree for every hero. At the moment you can choose one of three characters: the brave samurai Ronin, the sharpshooter Nomad, or the techie Murmur.
At the moment, the NFT functionality is available only for the Gala Games Launcher users. You can buy one of 11 NFTs on the Gala marketplace to get early access to the game with a number of advantages, including increased xp points, bonuses for tactics and strategies, etc.
Blast Royal
Blast Royale is a new hilarious NFT battle royale that aims to entertain the players, rather than provide ways to make profit. At the moment, you can play Blust Royale on both iOS and Android.
The rules are pretty classic: 30 players are dropped into the arena, and they have to collect items and battle with each other to become the only winner. You can play Blast Royale for free, but at the same time the game offers several ways to earn in-game tokens, $CS and $BLST, like joining competitions, selling, and buying NFTs on Blast Hub, or forging new inventory.
Drunk Robots
Drunk Robots is one more gem released this year. The game takes you to the future, where robots have replaced mankind in a variety of mundane tasks. But, like all the technologies, eventually robots become outdated, and they are sent to the largest junkyard. It used to be the case until one day these metal misfits established their own gangs and started raiding the city in search of METAL, a local beer and the energy source.
In addition to fascinating story and hilarious artwork, Drunk Robots also come with four different modes and various bonuses for players. There are two mini-games, Ninja and Knockout, that are free to play and still offer rewards for the top players.
Other modes, the PVP arena and Drunk Races, require you to invest at least in one NFT to compete with other players for the prizes in the game's native currency, $METAL.
If you wish to increase your profit while playing Drunk Robots, we suggest trying our new feature, a gamer profile, which allows you to track all the gaming activity in one place by controlling your NFT portfolio, expenses, and profits. You can access your portfolio in the menu in the top right corner on the Liquidifty page.
Thetan Arena
Thetan Arena is a popular Web3 MOBA game, where you have to form a team and battle with other players to earn prizes. The outcome of the battle always depends both on your skills and teamplay.
You are free to choose any of five game modes, including Battle Royale, Tower Siege, Superstar, Deathmatch, and Custom battle. The best part is that you can jump into the game without any investment and get a total of three heroes for free. This set is enough to open premium heroes in Thetan Arena. Premium characters allow players to receive rewards in Thetan Coin, the game native currency, for winning the battles. On top of that, the NFTs with Premium heroes can be traded on marketplaces.
If you want to save your time and start earning rewards as soon as possible, you can consider buying a Thetan Arena NFT. However, picking up a good offer from hundreds available options may be tricky. Liquidifty completely understands this. Therefore, we have developed a special game analytic tool. In order to design it, we've gathered a group of game testers that have helped us to analyze NFTs and selected the ones with the best ROI for you.
Aurory
Aurory is a Pokemon-inspired blockchain MMORPG with an intricate plot. The game tells the story of two worlds, Antik and Tokané. Antik was almost destroyed, but, fortunately, the people there found their hero, Satoshi, who created a decentralized system as the cure for the challenges of the world. Satoshi also found a parallel world, Tokané, inhabited by the fabulous species, called Nefties. After a series of disasters, Satoshi's mind broke apart. Now Sam, a worker from Antik, and Helios, the Nefty, have to collect these parts to save the world.
The game includes two playing modes: a single PvE mode, where you can learn more about blockchain and crypto, and a multiplayer PvP mode to battle with other gamers.
The game is still under development, and there are three ways to get early access: get an Aurorian NFT on the marketplace, own at least 250 AURY tokens, or participate in a Kuсoin event. The Aurory players also earn token rewards through staking, trading Nefties, and other in-game inventory.
Spider Tanks
Spider Tanks Launch | Official Trailer
Spider Tanks is a new blockchain brawler with a simple 3X3 PVP game style and various battle modes. Before jumping into the arena, players need to choose a tank body and weapons from an extensive list of options, including guns, missiles, turrets, etc. The game also features various battle modes, including classic types, like deathmatch, or really unique modes, like Poultry Pusher, where you need to bring the 'chicken of mass destruction' to a certain point on the map before the enemy.
Spider Tanks offers a number of free tanks for the players. Although, you can't upgrade, trade, or sell them. If you want to make profit in the game, you'll have to invest into the game NFTs. Winners earn Victory Points, which can be converted into the SILK tokens, the game's native currency. And, finally, you can trade NFTs with items and props on the marketplace to make profit.
Immortal
Immortal may look like another online chess simulator, but it has introduced a number of additional challenges to one of the oldest games on the planet and made it even more sophisticated. Immortal features NFTs of chess pieces and special tasks for the players. The challenge may involve a given piece (e.g. the knight has to capture a minimum of two pieces) or the whole game (e.g. a player has to make less than 15 moves to win).
Winners can get various rewards, such as NFTs, the $ETH or $CMT tokens. $CMT stands for the game currency, which is used to pay for tournaments fees and for lessons with grand masters.
Era7
Era7 WCT S1 The Play-In Stage Highlights: AmmarSaQr VS vrrvrr22
Era7: Game of Truth is a blockchain card game inspired by classic Web2 titles. In this world, seven species are competing for the right to rule the Continent of Truth. The game includes two modes: PvE and PvP. While a PvE one is reserved for battles with NPCs, the PvP Arena gives players an opportunity to battle with real people.
There are a total of 1,000 battle and master cards available in the game. And, like any other card game, Era7 relies on a good strategy. Players need to be wise about building their deck and deploying their assets during the PvP battles to win rewards in the Era and the GOT tokens.
If you want to learn more insights about Era, don't hesitate to visit our game analytic section.
Simply click on the game to learn more about the game economy, its active and profitable players, token summary, and make your final decision.
Blankos Block Party
Blankos Block Party is an entertaining Web3 game that aims to unleash your creativity and gives you a chance to hang out with your friend in the virtual world. At this point, there are three mini-games available for players: Shooters or classic deathmatches, Races with checkpoints, and Vibe Collects which stands for a race to collect the lighting bolts.
The game also offers several ways to get rewards. Each hero, or Blanko, represents an NFT and can be sold on the Mythical marketplace. After opening the box with your unique Blanco, you will have to choose the hero's abilities. Eventually, you will be able to level up your hero and increase its price. Players can also join competitions to get rewards in NFTs and trade them on the marketplace.
The final thoughts
Gaming is indeed one of the most exciting ways to use Web3 technologies, and we can certainly see that Web3 titles have greatly improved since their introduction. Many Web3 games are completely free, but they still offer many rewarding opportunities for the players, including selling and buying NFTs, or getting rewards in game native currency for achievements. However, it's not easy to select a profitable project from the diversity of blockchain games and at the same time avoid scams.
If you wish to stay on the top of leaderboards, we suggest reading the reviews before jumping into the game and using special software for blockchain games. This year Liquidifty has studied the challenges of Web3 gaming and developed the set of the tools tailored to the necessities of Web3 gamers that includes a gamer profile, a game explorer, and game analytics.
The game explorer provides you with data about the featured games, including lore, genre, and ways to make profit. The game analytics introduces data-driven insights on a game, like the amount of profitable players, token summary, performance, and the best NFTs for beginners.
These solutions allow you to track the progress of the best gamers to increase your profit and reduce costs. After using them, you will also be able to select the most interesting game to play and have more chances to reach the top of the leaderboard and earn the desirable reward.
Stay tuned
Subscribe to the newsletter to receive the latest news and updates.
By clicking the Subscribe button you agree to our Privacy Policy terms